An important part of any bathroom is the correct lighting. Your new bathroom can be designed entirely according to the latest design trends, but without the right lighting, all this beauty wont do it's justice. Properly lighting a bathroom can be quite tricky. This is because the bathroom has a double purpose. On the one hand, we come there every morning and evening for our regular ritual of brushing our teeth, washing our faces, shaving, etc. On the other hand, the bathroom is a place of relaxation. A nice half hour in the bath or an extra long shower on Saturday morning.
For these different functions you need different lighting. In this blog, we give you some practical tips for choosing the right bathroom lighting. We also provide information on water resistance and what IP value you need for each zone in your bathroom.
General lighting
First, we look at what is called general lighting or basic lighting. These lights are connected to the main switch. People often choose a number of recessed spotlights or a central fixture. Important with general lighting is that there are no dark spots and that almost the entire bathroom is illuminated. You also want to make sure that you don't look directly into the light when you take a nice bath. You can prevent this by placing the lighting at the right location, but you can also choose to connect a dimmer. All our recessed spotlight sets for the bathroom have a dimmer included. This allows you to dim the light slightly when you take a bath.
Task lighting
Task lighting, as the name implies, is designed to illuminate a specific task. Think of your kitchen countertop. In the bathroom, you need task lighting above the sink. Whether you apply your makeup in front of the mirror in the morning, or shave every morning; good lighting is essential. Choose at least 2 recessed spotlights. It is important that the lighting is symmetrical, so that the lighting is even. When shaving, you naturally want to be able to see both sides of your face clearly.
Ambient lighting
As we mentioned in the beginning, we spend more and more time in the bathroom. A modern bathroom almost becomes a small wellness center. This of course requires beautiful mood lighting, also called accent lighting. Important here is that the lighting strength is less than your general lighting. Above the bath, a recessed spot is often chosen for the front and the back of the bath. One recessed spot is often placed above the shower which can be slightly brighter than the lighting above your bath.
LED dimming
By now, it's clear that it can't hurt to have some flexibility with your bathroom lighting. This is where an LED dimmer comes in handy. When you are able to dim the light, you can switch from general lighting to mood lighting within one turn or push of a button. Ideal! We think so too, which is why we supply all of our bathroom recessed lighting sets including a wireless touch dimmer that you can easily mount in any standard junction box. This touch wall dimmer and other LED dimmers are also available separately.
Bathroom zones and IP value
In the bathroom you have to deal with a certain amount of humidity. To ensure your safety and that your lighting continues to function correctly you need to take this into account. A spotlight or fixture has a certain IP value. This is a unit for the degree to which an electrical device is resistant to moisture and dust. The higher the value the better the resistance of the device. 
We can divide a bathroom into different zones. Each zone requires a different IP value.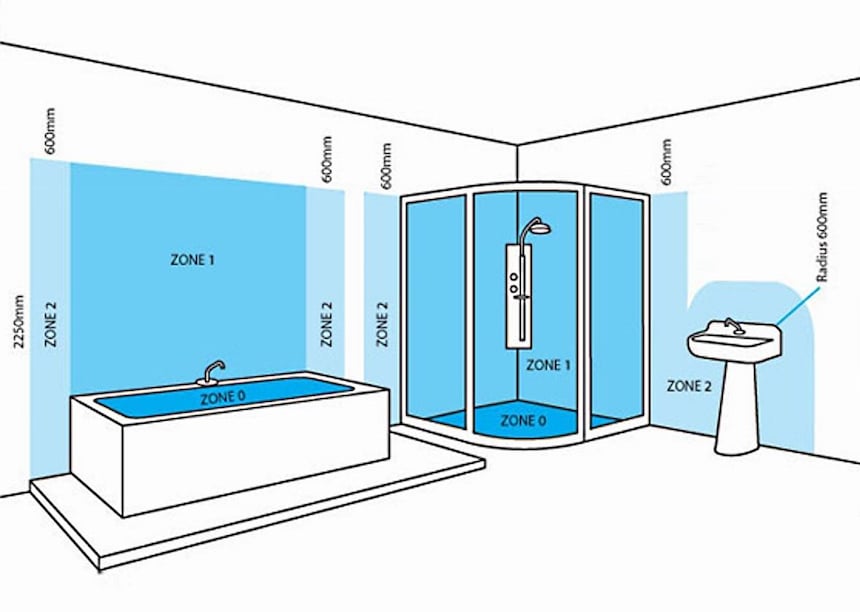 Zone 0 - Minimum IP value: IP67
Zone 1 - Minimum IP value: IP44; IP65 recommended
Zone 2 - Minimum IP value: IP44
Anything outside these three zones is formally called zone 3. Basically, no specific IP value applies here. However, we recommend always using at least an IP44 spotlight in the bathroom. This gives you matching spots and better protection against steam.
Want to read more about the different IP values? Then read our blog about it.
Questions?
We hope that after reading this blog you have gained some inspiration for your bathroom lighting. Of course, you may always need more information. No problem. Our LED specialists are ready for you and can be reached during the daytime at +31 85 808 5238. You can also send an email to [email protected] or ask a question via the chat.