For a time, smart products felt like something of the future; something we only saw in Hollywood movies. A character shouting in the room: LIGHTS ON! LIGHTS OUT. Wow, such cool technology! Have you always wanted this, too? Guess what! You can have it now!
What is Smart Lighting?
Nowadays everywhere you go, you hear something about smart lighting or smart lights, a smart home and smart devices? But what exactly is smart lighting? Smart lighting means that you can control the lighting wirelessly from a distance. You do this by means of a smartphone or smart speaker, which serves as a remote control. With smart lighting you also have the possibility to dim the lights and change their colour. This allows you to adjust your lighting completely to your taste, style and preference.
Why Smart Lighting?
Maybe you're wondering: why would I choose smart lights? There are several reasons why people choose smart lights, and that has mainly to do with the following advantages:
Convenience and Comfort

: smart lighting can be controlled from a distance by means of an app on your smartphone or tablet, or by means of voice control via a smart speaker. When you're sitting on the couch with a cup of tea watching a movie, you don't want to get up in the middle of it to dim or turn off the lights. With smart lighting you can stay where you are, and control your lights throughout the house from where you are sitting.

Energy saving

: by making use of the many functionalities that smart LED lights have to offer, you can ensure that you save on energy consumption. Are you at work and all of a sudden you remember that you forgot to turn off the lights? No worries! You can easily switch them off directly from your smartphone. You also save on energy and extend the lifespan of the smart lights when you dim them.

Safety

: when your house is well lit, this deters unwanted visitors. A burglar will not easily break in when it looks like someone is at home. Are you on holiday for a week? Then you no longer have to put a separate timer or time clock on each lamp. Use the time schedule function on the app, and let your smart LED lights turn on and off automatically at fixed times. You can also use your smartphone to control your lights instantly, wherever you are!

Atmosphere

: Smart lighting is simply fun too! You can use it to set the atmosphere, depending on the room, the activity or the occasion. Set the lamps in one of the 16 million RGB light colours. So plenty of choice! Nice to alternate every now and then and create a new atmosphere in your home. 
How does Smart Lighting work?
The use of smart LED lighting is fortunately no rocket science. It starts with a smart light source. These come in all kinds of variations, which you can read more about in a bit. In addition, you need a smartphone, a tablet or a smart speaker. The smart lighting available at INTOLED, is smart lighting without a Bridge. You don't need a Bridge to connect the lights. You can connect the smart light sources directly to your smartphone. Once you have connected the smart LED lights, you can enter different settings. For example, create different scenes, where you set all the lights in a certain light colour and light intensity for each room. With the push of a button you can switch all the lights on or off in a room, directly with the desired light output.
Also make use of time schedules. These allow you to set the times for your smart lights when they are automatically switched on and off. This way you don't have to come home to a dark house in the evening!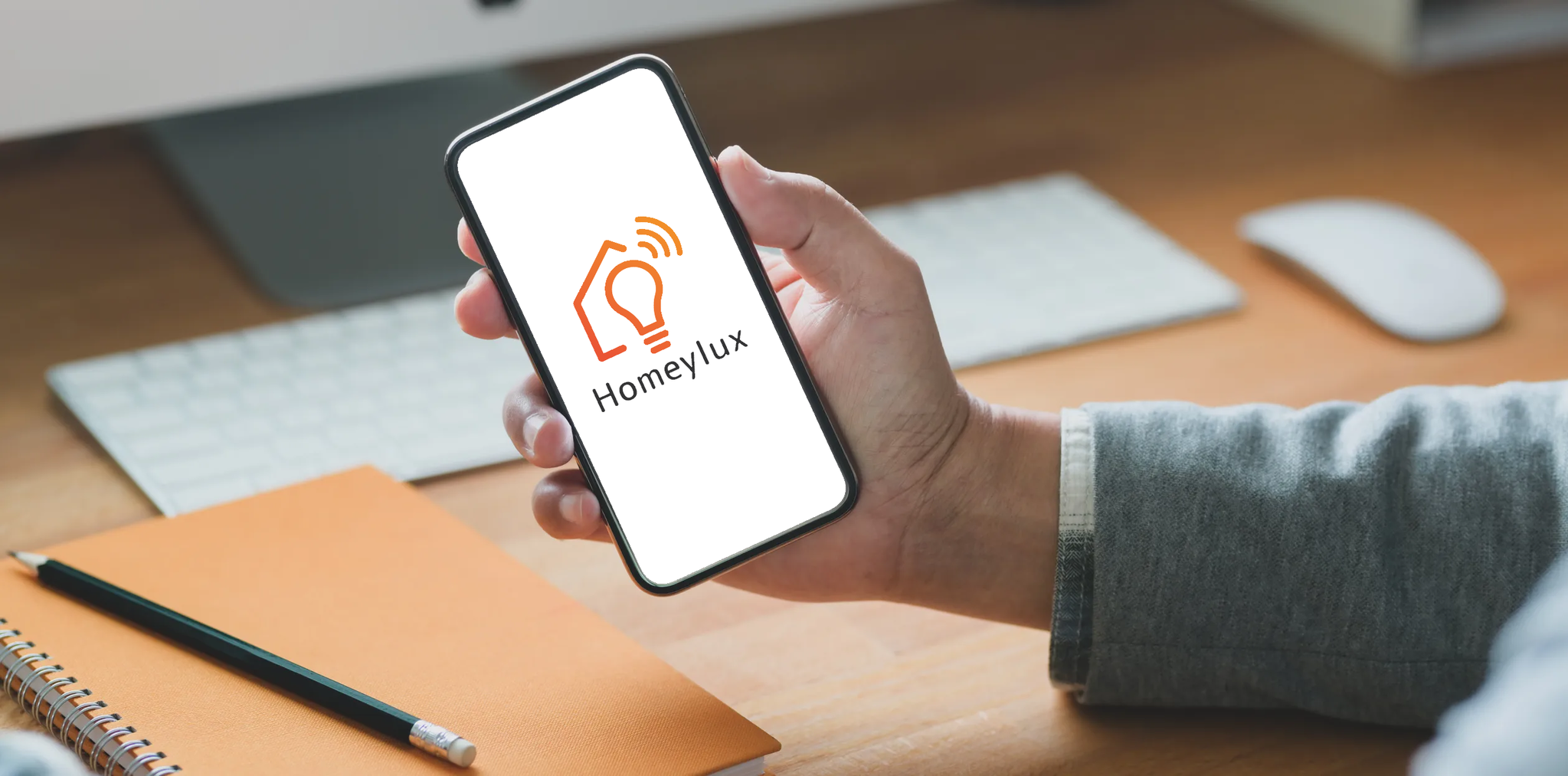 Control with your smartphone
The smart products available from INTOLED are from the smart home brand Homeylux. The Homeylux products can be operated via the Homeylux App. This is easy to download via the Apple Store or Google Play. How does it work? Very simple: You link the smart lighting via your WIFI network to the app on your smartphone or tablet. Once the smart lights are connected to the Homeylux App, you can adjust the lights to your liking. Set the light colour, with a choice of 16 million RGB colours! Determine the light intensity by dimming the smart lamps, but also use the time schedule function.
Do you want to know how Homeylux works? Take a look at the video instructions on how the Homeylux App works by clicking here.
Control with your smart assistant as Google Home or Amazon Alexa
Already using a smart speaker like Google Home or Amazon Alexa? Then you can also connect your smart lights to it. Via your smart assistant you can also control your smart devices by voice. You can give commands like "okay Google, turn on all the lights in the living room" or "Hey Alexa, turn off the lights in the kitchen". You can stay in place and your smart speaker does the work for you. Isn't that convenient?
What kind of Smart Lighting is there?
Smart lights are booming and can't be left out. Creating a smart home is getting simpler and simpler. With smart LED lighting in the house, you already have a good start! They come in all kinds of variations:
Smart GU10 lamps

Smart E27 lamps

Smart E14 lamps
With these smart light sources you can transform a normal lamp into a smart lamp! The only thing you have to do is to turn the old LED bulb out of the fixture, and turn the smart bulb in. It's as simple as that!
In addition to the smart lights you will also find smart recessed downlights at INTOLED. Place them in a room of your choice, think of your kitchen, bathroom, living room or bedroom, and create an atmosphere in no time. In the assortment you will also find a selection of smart lights with an IP value of IP44 or IP65. These are suitable for humid and very humid areas. So they can also serve as smart lighting for outdoors. Fun when you want to give your garden an extra cozy atmosphere. Do you want lighting with a beautiful look, elegant design and a trendy look? Then take a look at the smart downlights. With these smart surface-mounted lights you can add an extra detail to the space.
Other Smart Home Products
Are you curious what other smart home gadgets there are? At INTOLED you will find a number of different products in the Smart Home category:
Robotic vacuum cleaners

: the little helper in your home who does the vacuuming for you, but can also mop for you!

Smart plugs

: you can use them to turn any ordinary product into a smart product.

Smart Tower Fan

: To smartly cool your home during those hot summer months.
Creating a smart home is much easier than you think, and smart LED lighting is a good start!
Questions about Smart Lighting?
If some things aren't quite clear yet and you still have questions about smart lights, feel free to contact our customer service. Our LED specialists are ready to answer all your questions. You can reach us by calling +31 (0)85 303 0027 or sending an email to [email protected].